Kent pub the George Restaurant and Bar are celebrating this month after head chef Charlotte Marshall took home the coveted Booker Pub Chef of the Year title at this year's John Smith's Great British Pub Awards.
The glittering ceremony held at the Hilton on Park Lane earlier this month recognised the greatest pubs in the UK, awarding them for being the best in categories such as food, spirits, beer and wine.
To win her award, Charlotte went head-to-head in a cook off with four other chefs shortlisted in the GBPA Food Pub of the Year category.
Charlotte's technique won the three judges over, who cited the croquettes as outstanding and the accompanying sauce deemed a good use of seasonal vegetables.
Of her win Charlotte said: "I was shocked and surprised to win. Its the best feeling in the world. Im overjoyed"
She added: "It's really about cooking from my heart with good ingredients and flavours, that's what the cooking is all about in my kitchen. Everything is honest and about the flavour."
The judges were Stosie Madi, the Parkers Arms, Lancashire, John Calton, the Staith House, North Shields, and Morning Advertiser ​food and drink editor Nicholas Robinson.
Judge Nicholas said: "Charlotte's quick thinking and skill helped her produce a tasty dish that showcased great skill and use of seasonal ingredients.
"The chefs only had a short space of time to think up and prepare their dishes after being given a box of mystery ingredients to do so."
Stosie said: "Judging the cook off was extremely insightful and showed a rigorous judging process for the GBPA awards.
"I think it is an overwhelming and daunting task for chefs to come out of their kitchen comfort zones and perform off the cuff, so for that alone credit must be given."
The other finalists in the cook off were:
The Kentish Hare, Bidborough, Kent (Bobby Brown)
The Roebuck Inn, Forest Row, East Sussex (Dominic McCartan)
The Turks Head, Hasketon, Suffolk (Chandramauli Dwivedi)
The Durham Ox, Crayke. North Yorkshire (Oliver Farrar)
The George Restaurant and Bar, Molash, Kent (Charlotte Marshall)
The John Smith's Great British Pub Awards are organised by pub trade bible The Morning Advertiser. The Pub Chef of the Year Awards was sponsored by Booker/Makro, which hosted the finalists in the cook off.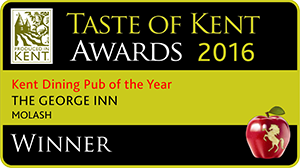 PREVIOUS AWARDS
KENT DINING PUB OF THE YEAR
TASTE OF KENT AWARDS 2015
RUNNER UP
KENT DINING PUB OF THE YEAR
TASTE OF KENT AWARDS 2014
KENT DINING PUB OF THE YEAR
TASTE OF KENT AWARDS 2013
CHRISTMAS
AT THE GEORGE!
Our Christmas menu is available from
Monday 27th November.
We also offer a special menu at lunchtime.
WE ARE FILLING UP FAST SO BOOKING IS ADVISABLE!